2020, when the pandemic was at its peak, UberEats, Zomato, and GrubHub- all these applications have written a story of comfort and convenience for people worldwide. Even social restrictions and other limitations could not stop the online food delivery business from flourishing. If you consider getting into this thriving domain, all you need to build a food delivery app like UberEats.
On-demand food delivery applications are designed to facilitate your customers to browse through different restaurants, place orders online, and get the food delivered to their doorstep. Restaurant owners can also leverage this app as a marketing tool that results in increased revenue.
In this post, we will discuss all the factors that determine the cost of food delivery app development. We will also dig deeper into the big features of an on-demand food delivery app. But, before moving ahead, let's find out an answer to the question- Why should we build a food delivery app like UberEats?
Why Create a Food Delivery App like UberEats for Your Restaurant Business
On-demand food delivery apps like UberEats are helpful for users in both working and WFH situations. This is one of the major reasons why the online food delivery domain is expected to grow at a CAGR of 7.6% between the period of 2022 and 2027. Talking about revenue generation, it is presumed that it will cross USD 466 billion in the year 2027.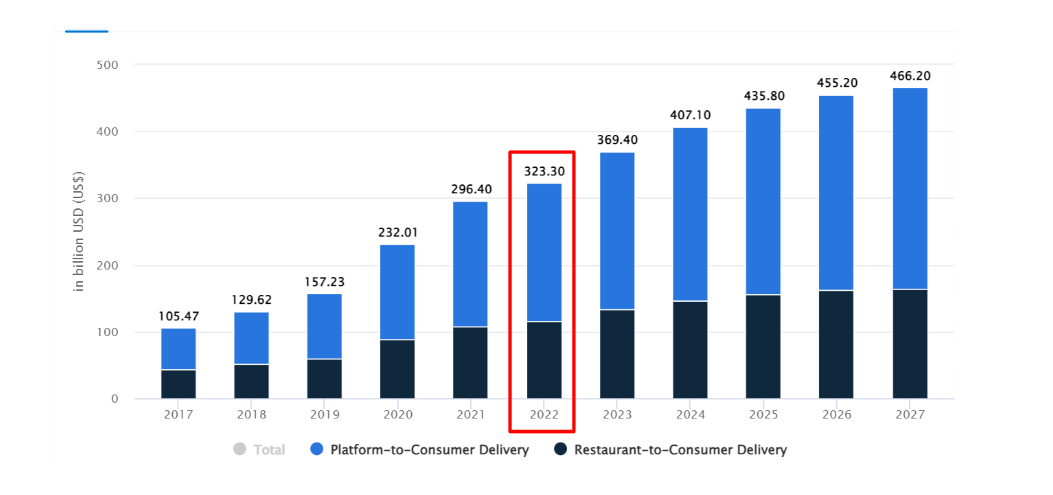 Source
Interesting Facts for You
34% of users spend at least USD 50 per order while ordering online
Consumers who place an online order can visit that restaurant 67% more frequently than those who do not place
300% rise is recorded in digital ordering and delivery when compared to dine-in traffic since
63% of users are of opinion that getting delivery is more convenient than dining out with a family
Gone are the days when we had to order food from a popular restaurant through a call. Today, a food delivery app can manage the entire ordering process thereby saving time for both customers and restaurants.
If you have made up your mind to venture into this lucrative business but have no idea how to make a food delivery app, its development cost and other necessary factors, then this post is for you.
How to Make a Food Delivery App- Top Aspects to Keep in Mind
Let's make a list of the top factors you need to take into consideration for building a food delivery app like UberEats. These factors also contribute to determining the development cost so it is better to focus on them.
1. Your Business Model
The food delivery business is based on three popular models- Aggregator, Logistics support, and Full Delivery services. You need a customised on-demand app as per your business model.
Aggregator Apps
These apps act as a bridge between restaurants and users. As an intermediary, you can show the menus of partner restaurants to app users and get orders as well as payments. You can transfer the payment to restaurants after deducing a fixed margin and restaurants deliver the order to the respective customers. GrubHub and FoodPanda are popular examples of aggregator apps. These apps cost comparatively less than the support or full delivery services app.
Logistic Support Apps
These apps are known as an extension of aggregator apps. As an aggregator, when you provide logistic support to deliver the food items, you can opt for developing a new delivery service or logistic support app. UberEats is this type of app and acts as a new delivery service player.
UberEats enables users to compare different offers across various restaurants without ordering food and once the order gets ready, the logistic partner is assigned to pick up and deliver the food to the user's doorstep. New players in the restaurant sector can partner with new delivery service providers to simplify the food delivery process.
Full Delivery Service Apps
It includes all the services ranging from ordering to food delivery. It is like a complete online or cloud kitchen that is designed exclusively for food deliveries. Users can go through the menu in your food delivery app and place an order. You get the notification and start preparing for the delivery. This is a full-fledged app for online food delivery services and so, it costs higher than that of the aggregator app.
2. Necessary Features & Functionality
The next major aspect you need to keep in mind while creating a food delivery app is its features. Usually, an on-demand food delivery app has three facets- the customer or user side, the restaurant side, and the delivery partner side. One more side is an admin who can control all three sides.
Here is the list of features for all four aspects. These are some of the most important cost-determining factors for building a food delivery app.
User/Customer Panel
A customer application has all the features necessary to enable users to check and compare items before ordering. These features include-
Sign In or Login
It enables users to register in the app using their contact details. Once the sign-in process is done, users can log on with ease every time.
Search bar
It facilitates customers to find their favourite restaurants or food items simply by typing names.
Cart
It allows users to add their preferred dishes to the cart for ordering.
Checkout/Payment
An integrated payment gateway can help users make online payments in a secure and swift way.
Order Tracking
Once the order is placed, users can check its status, duration and other details in the order tracking section.
Rating & Reviews
Users can give reviews to restaurants, delivery service providers, and app owners through this feature.
24/7 Customer Support
This is an important feature that connects users with the support team for resolving issues or queries related to orders and payments.
Restaurant Panel
This panel has some basic features along with notifications for incoming orders. Here are some of the noteworthy features of a restaurant side.
Registration/Login
Restaurant owners can register as a member or a partner using this feature. The process should be short and simple.
Managing Menu
This is an important feature that enables restaurants to add and edit food items from the perspectives of price and availability.
Order Notifications
Once the order is placed and payment is done in the food delivery application, restaurants can get a push notification about an incoming order.
Tracking Reviews
Restaurants can check and respond to various reviews given by their customers or app users.
Delivery Partner Panel
This is the simplest side with a couple of features. This app is useful for delivery agents to receive, accept/reject, and deliver orders. Its features are-
Registration/Login
It enables delivery agents to register themselves for receiving orders. After a simple registration process, agents can get delivery information.
Managing Order
Once the order is received, they can either accept or reject it. It is also useful to manage multiple orders and timely delivery.
Status Update
It is useful in updating the order status in real-time. Delivery partners can update it from received to on the way to delivered using this feature.
Admin Panel
As mentioned above, the admin panel controls the entire food delivery system. A software development company can make a web-based admin panel as well. Here are its key features-
Login
Admin user can register and start managing the admin panel using this feature.
Customer Management
It is useful for managing the customer's data and storing their details securely.
Payment Management
It enables the admin to integrate secure ways for payments on the food delivery app platform.
Restaurant Management
The admin can easily add and manage new restaurants. Here, the functionality of managing delivery persons can be added as well.
Discounts & Offers
It enables the admin to control and publish promotional offers from partner restaurants.
Technical Support
This feature is useful in resolving issues or bugs to ensure a seamless user experience. It is supported by the IT team.
3. Technology Stack to be Used
Based on the platforms or features, app developers use different technologies and integrate the functionality. It plays a vital role in deciding the app development cost. Here is the necessary technology stack to develop a food delivery app like UberEats-
APIs for listing restaurants (Foursquare API/Yelp Fusion API)
Live map and GPS tracking for finding locations and directions
APIs for registration or signup (Facebook SDK)
Cloud-based hosting platform (Azure or AWS)
Integration of analytics for generating reports
Payment gateways for secure online payment (Stripe, PayPal, etc.)
Apart from these technologies, developers can integrate features like contactless delivery and instant chat to build a user-friendly food delivery app.
All these features and technology stack can contribute to determining the app's complexity and reflect in the development cost for building an online food delivery app like UberEats.
How Much Does It Cost to Build a Food Delivery App in Australia?
The average cost to build a mobile app in Australia is $15,000 to $500,000. A small app with limited features costs around $15,000 to $60,000, a medium-sized app with some desired features costs around $50,000 to $250,000, whereas a big and feature-rich app costs over $100,000 and can stretch up to $500,000.
However, the exact app development cost depends on several factors including-
Complexity Level
App complexity is directly proportional to the time of development. The same relation holds true between development duration and cost. Simply put, complex apps take at least 8 months to one year's time to get completed and so, it costs higher than apps with simple and medium complexity.
Design & Structure
User experience is about the performance of your application. When you build a food delivery app, the primary goal is to make an easy-to-use app for users and it reflects in the development cost. The UI (User Interface) design determines the visual appearance of your application. Your app's design should be based on your business objectives and reflects your restaurant's customer-focused approach. Such a design and structure can be important factors for determining the food delivery app development cost.
Development Platform
Another important cost-determining factor is the app development platform. You need to decide whether you want to build a food delivery app for Android, iOS or both platforms (cross-platform). Here the development costs have a great variation due to the differences in hourly rates of Android, iOS, and cross-platform app developers.
Apart from these factors, you need to consider the following aspects that make the food delivery app development costlier.
Functional costs
Management costs
Infrastructural costs
Maintenance costs
Security costs
Marketing costs
You can always consult a reputed mobile app development company to get a quote for building a food delivery app like UberEats.
Wrapping Up
UberEats, Yelp, and Foodora have gained immense popularity in Australia and the world. However, the food delivery industry has a lot of potential and opportunities to offer for new players. Innovative features and seamless performance in the app can be game-changer for new entrants. If you want to build a food delivery app like UberEats, the time is just right to take the market by storm. Hope this comprehensive guide will help you come up with a user-friendly food delivery app.
Appmart is a renowned mobile app development company in Melbourne. We assist our clientele spanned across core industry sectors to come up with sophisticated and future-ready app solutions by integrating technological advancements. Drop us a line at contact@appmart.com.au or call us at 1800 277 627 to let us know your app requirements.