A flawless mobile app can benefit an organisation in multiple ways- it's not a secret anymore, right? Still, many entrepreneurs prefer to sit on the fence when it comes to mobile app development for several reasons. One such reason is the development cost of custom mobile apps.
As a leading mobile app development company in Melbourne, we have repeatedly discussed the answer to the question- how much does it cost to make an app?
Let's dig deep into the types, benefits, and cost-determining factors for custom mobile app development. Hope the cost breakdown will assist you to make the right strategy for mobile app development in 2022 to ensure the growth of your business.
Before moving ahead, here are some interesting facts related to mobile app downloads and revenues.
Key Statistics- Mobile App Usage, Revenue and Downloads
88% of time spent on mobiles is spent on using apps
App stores have witnessed over 230 billion downloads globally in 2021
Mobile apps are expected to generate revenue of over $935 billion by 2023
49% of people open their apps more than 11 times in a day
Be it a startup or a large enterprise with a global presence, every company can leverage the benefits of the increasing popularity of mobile apps and gain a competitive advantage.
Statista has predicted that mobile apps will make over 613 USD in revenues by the year 2025. It is based on the constant rise in the number of mobile app downloads with a CAGR of 19% between 2016 to 2021.
It's time to look at the benefits your enterprise can get using a custom mobile app.
Top Business Benefits of Mobile Apps in 2022 (and beyond)
Here are some of the key reasons why your company needs a mobile app.
Higher Scalability
A dynamic business environment demands higher capabilities to adapt and adjust quickly. Simply put, your company needs to keep the pace with ever-changing expectations of customers and market trends. A reputed mobile app development company in Melbourne can assist you to serve this objective effectively with the help of a feature-rich app.
Tailor-made app solutions enable your company to expand and grab all the opportunities by offering high scalability and flexibility.
Improved Branding
A company's mobile app can strengthen branding efforts. As a robust online representative, a mobile app plays a vital role in branding with easy navigation, user-friendly functions, appealing design, and seamless access to corporate information. It also assists you to attract new customers and retain existing ones.
A mobile app needs to be capable of resolving the customer's issues and enhancing their overall experience so that it can improve branding over the period.
Reduced Costs
How about sending notifications to your customers or employees related to company news, business updates, etc.? A custom mobile app can do this efficiently and cost-effectively. On one hand, it can reduce operational costs through automation, and on the other hand, it can spread the word about the launch of new products or promotional offers.
A mobile app bridges the gap between a company and customers. In a way, it reduces the costs associated with promoting products and branding.
Enhanced Experience
Customer experience holds a key to success in this challenging scenario. Mobile apps can enhance user engagement by offering a personalised experience and social media integration. Having a mobile app on social media can enable customers to share their experiences with your products and services.
These days, people pass more time on social networking as compared to other sites. Here, your app's positive feedback can work wonders for ensuring business growth.
Increased Security
Corporate data should not go into the wrong hands ever, right? Globally, data safety remains a priority for every entrepreneur for this reason. Thankfully, a custom mobile application development company can enhance security levels of confidential data through two-way authentication, encryption, and other security measures.
Here, it is necessary to keep in mind that a generic app has limited features for data safety and it may not withstand cyber attacks. Here, custom mobile apps with higher security and flawless accessibility can remain handy.
Easy Integration
Off-the-shelf mobile app solutions may lead businesses to various issues related to connectivity, communication, and accessibility. Such an app may not augur well with the existing business system and may stop working unexpectedly. Here, a custom app can offer easy integration with the system and works well along with other business processes.
Bespoke mobile apps can perfectly fit with existing tools and business systems. It results in increased productivity and connectivity.
More Profitability
Increased productivity drives more profit. A custom mobile app can increase overall efficiency and productivity. It makes it possible by enabling employees to accomplish their tasks within a given deadline. A tailored mobile app can act as a single platform for all the necessary information and collaboration to meet this objective.
More profitability and faster time-to-market can give a higher return on investment in a relatively short time.
NOTE- WE CAN MAKE AN IMAGE CONTAINING ALL THESE BENEFITS.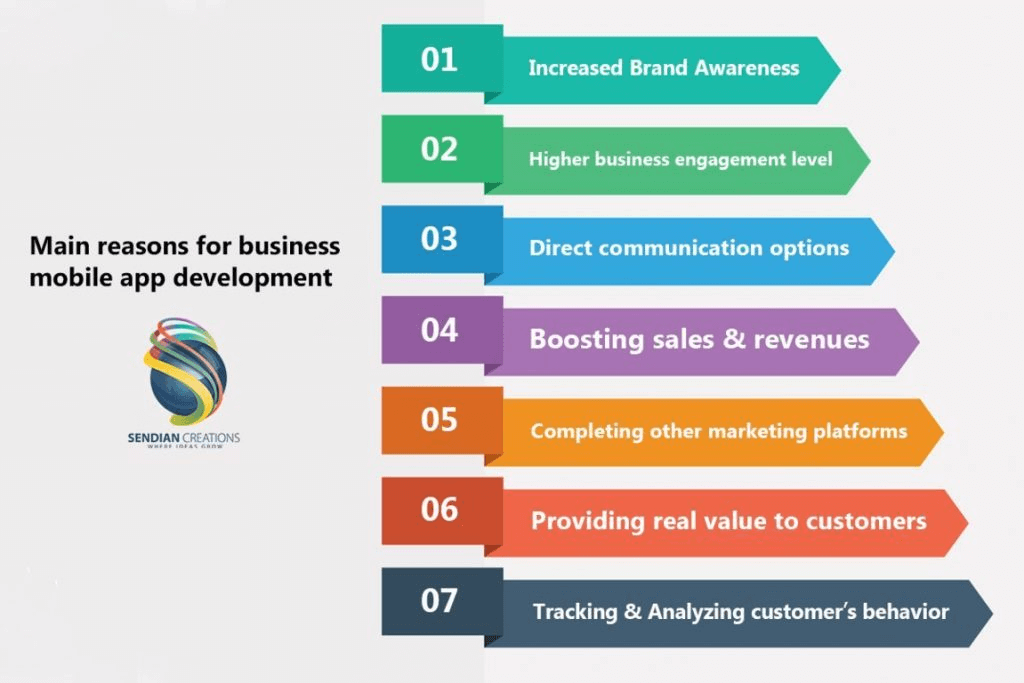 SAMPLE IMAGE
There is no exaggeration in mentioning that a customised app can offer your company an edge as you can offer more comfort and convenience to your customers than competitors.
However, you need to opt for the right platform to leverage these benefits. Here are the top tips for considering the right platform for your upcoming app.
How to Choose the Right Development Platform for Your App
Tailored apps are mainly of two types- native and cross-platform apps. We can further divide native apps into Android and iOS applications. A reliable mobile app development company in Melbourne can assist you to choose the right platform for your business app by considering the following factors-
Target Audience
This is one of the most crucial considerations for developing a mobile app. For example, if you want to address a target audience in the USA and UK, it is better to opt for iOS app development. Europe and Asia-based people prefer Android devices, so you can choose Android app development for attracting them.
Necessary Features
Another major consideration is app features. As compared to cross-platform apps, native apps have better look and feel. They have more usability and offer a high-quality user experience. In such a scenario, if you want to come up with a feature-rich app for your company, it is better to prefer native app development.
Supported Devices
Market trends and other aspects like supported devices are useful in determining the platform for app development. Here, cross-platform app development is a better option because such apps can seamlessly work across different platforms and devices. It is always better to consider devices that are used by your target audience before developing an app.
User Expectations
Depending on the geographical locations, devices, and behaviour patterns, user expectations have great variations. Here, the OS also plays a critical role. For example, Apple is known for offering innovative features on iPhones, and its followers or customers expect high-end usability as well as creativity from all the apps.
Moderation Requirements
The iPhone giant Apple has a set of rigid rules that need to be followed before submitting an app to the App Store. An App Store does not approve any app that violates its guidelines. Contrary to this, Play Store has a set of rules but with a weak moderation system. Cross-platform apps also have fewer moderation needs as compared to the iOS platform.
Cost of Mobile App Development in 2022
Before moving to the cost breakdown, let's understand the key determining factors that influence the app development cost.
Factors Contributing to Mobile App Development Cost
1. Development Platform
Let's put it this way- your target audience consists of iPhone users and you need to bring a native app based on the iOS platform. Now, the iOS platform has stricter guidelines as compared to Android, and therefore, iOS app developers have to put more effort into making the app ready for the platform. It can increase the development time and cost significantly.
2. Technical Complexity
We can classify apps into three broad categories from the perspective of complexity. Basic apps do not require remote data servers. Medium apps need to save data on remote servers, and therefore, more sophisticated programming is necessary. Apps with high complexity have many interrelated features and complicated functionality.
| | | |
| --- | --- | --- |
| Level of Complexity | Number of Screens | Average Price |
| Basic | 5-8 screens | $16,000- $32,000 |
| Medium | 10-15 screens | $32,000- $48,000 |
| High | 20+ screens | $72,000+ |
3. Team Size
You can hire a developer team on the basis of the app's complexity and feature requirements. An app development team consists of a solution architect, a business analyst, a few developers, a project manager, a QA executive, and a designer. If your app has multiple features and high complexity, the team size increases and so does the development cost.
4. Third-party Integration
It is necessary to get the desired functionality in an enterprise application. A mobile application development company in Melbourne can assist you in adding third-party integrations to a custom app. Though such integrations can accelerate development, at times, several third-party tools may take additional development time.
5. Licensing and Legal Fees
E-commerce and other B2C apps may have to follow multiple licensing and legal procedures. These apps need to be built in a way to meet all the legal provisions. However, this can increase the app development cost in line with time and effort.
6. Backend Development
Launching a dynamic app with desired features needs real-time data sharing and seamless synchronization of information across all platforms. Here, strong backend development is necessary to integrate the app into the cloud. But, this requires more time for developing complex app infrastructure, which eventually increases the cost.
7. UI Design
An interactive and appealing user interface (UI) plays a critical role in ensuring the success of a business app. In other words, UI is accountable for the appearance of a customised app and if you want to come up with an app that attracts the target audience to download, you need to focus on a UI design. But then, a rich design can be costlier, and yet rewarding!
8. Hourly Rates
Great variation is prevalent in the hourly rate of developers across the world. Every region has different hourly rates but it is fair to mention that a higher price does not mean the assured success of your proposed business app. Also, a higher hourly rate cannot guarantee superior performance.
The following graph shows the hourly rates in different regions.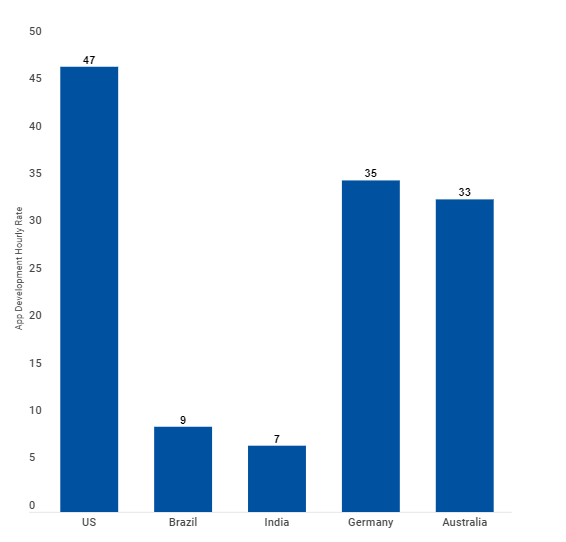 Source: Salary.com
Apart from these factors, you need to consider the type of app you want to build. It is because every app is unique. It poses different challenges and requires specific time to develop.
Estimated Development Costs for Most Common App Types
| | | |
| --- | --- | --- |
| Size | Short Description | Average Price |
| Basic | Single Platform with limited integration | <$200K |
| Medium | Cross-platform with simple integration | $200K to $600K |
| High | Multiple personas, fully native, multiple platforms | $1M+ |
The type of mobile app impacts a lot on the development cost. Apart from small, mid-sized, and large size apps, factors like the number of platforms, features, and integration requirements are also major cost-determining factors.
It is always a good idea to make a roadmap for your app before consulting a mobile app development services provider in Melbourne. For example, if you want to build a gaming app that can be used by hundreds of thousands of people in a month across different devices, then you need to pay more money. Whereas, an app with limited features made for a particular group of users requires less money.
Concluding Remarks
Appmart, a mobile application development company in Melbourne is known for developing robust and feature-rich apps for modern enterprises. We provide our esteemed global clientele with custom Android app development, iOS app development, and cross-platform app development services.
Our in-house teams of experienced developers can integrate advancements of cutting-edge technologies including IoT, Blockchain, AI and ML to meet the diverse business needs of various industries effectively. Would you like to share project requirements or wish to know more about our services? Simply drop us a line at info@appmart.com.au or call us at 1800 277 627 for consultation.